PRESS
Issue # 1692 (3), Wednesday, January 25, 2012 |
Art for a wintry day
By Tatyana Sochiva
The Sigmund Freud Museum of Dreams, in the meantime, is hosting a photo that is in sharp contrast to that in terms of its artistic features and concept. Yelena Elbe's fourth exhibit to be held at the Freud Museum is entitled "Ghosts" and focuses on exploring memory, personal feelings and loss through photo.
"With pain come ghosts. Ghosts are not only the people that we lost; they are adults, "said Yekaterina Sintsova, the exhibit's curator.
The photographer, who appears in her own works, believes that we create ghosts through sorrow.
Elbe does not use Photoshop or any other photography programs, and all of the colors are captured in the pictures are natural. She often uses mirrors for layering and transparency effects.
"I am interested in reflections, because self-awareness begins from the moment, we look at ourselves," said Elbe. "My work is a kind of therapy. As for the ghosts, it looks like they were circling around me and I could not help but take photos of them, "she added.
Elbe was born in St. Petersburg, but has exhibited her work in the US and Europe. In Russia, her work can also be seen at. Petersburg's Marina Gisich gallery, as well as at the Winzavod Center for Contemporary Art in Moscow.

L'auto-thérapie
Psychanalyse et photographie
Andrei Kudriashov
L'une après l'autre ont eu lieu à Saint-Pétersbourg les inaugurations des expositions dans lesquelles leurs auteurs ont déclaré que leurs projets ont été réalisés dans un but précis: se délivrer de certaines obsessions qui les poursuivent dans leur vie quotidienne. Malgré cet aveu, et même sous condition, nous n'attribuons pas à ces projets la catégorie d'art-thérapie. Les exercices, effectués sous la monté d'honne d'un médecin équipé de techniques artistiques est un fait de la médecine, en dépit de la nécessité d'un effort de créatif de la part du patient. La situation dans laquelle l'artiste, en utilisant les outils habituels de la pratique de l'art, tente de comprendre soi-même, en règle générale, est un fait de l'art. Ce qui est intéressant est la dissimilitude de la relation des ces artistes envers leurs propres œuvres ainsi qu'à "l'effet thérapeutique" dans telle fusion du "médecin" et du "malade".
Fantômes.

Reflet
La russe parisienne Elena Elbe, a à partir de 2004réalisé à St Pétersbourg huit projets. "Fantômes" est sa quatrième exposition au Musée des rêves. Sa présence régulière entre les murs du musée n'est pas un hasard car Michael Haneke appelle "Cache", "caché" comme l'indique le nom de l'un de ses films. "Mémoire", "passé", "perte", "enfance", "journal intime", "amour", "mort" – des mots qui reviennent souven dans les critiques des projets artistiques de Elena Elbe.
Cette exposition est consacrée au deuil, ou plutôt aux tentatives de contrôle de ce processus. Pour employer une notion bien connue, introduite par Freud, Elena capture le processus du «travail du deuil». Même si chacun d'entre nous a des connaissances dans le domaine de la psychanalyse, et certains connaissent parfaitement les tournures des grands classiques, nous ne prendrons pas de risque et laisserons s'exprimer les professionnels, les conservateurs du musée, "le travail du deuil est un processus qui permet soit l'appropriation de la perte, ce qui conduit au calme, soit l'externalisation de l'expérience verse monde, ce qui fait revenir la douleur. Avec elle viennent les fantômes, les revenants. "En capturant ces "revenant", Elena ne les traine pas sur le divan, mais les utilise comme matériel dans son œuvre. De toute évidence, au stade ot le trauma est négligé, et les fantômes ont déjà leur propre existence, le traitement de prévention initial devrait être l'affranchissement de ces «symptômes».
En réalisant ses projets, Elena Elbe invente à chaque fois de nouvelles techniques afin de montrer aux autres l'invisible, qu'elle perçoit comme le "sien". L'intime. Dans "Fantômes" il n'y a aucune trace d'utilization des programs graphiques, il n'y a que des moyens simples permettant d'effectuer des superpositions. Les visages et les silhouettes apparaissent dans les reflets sur le fond du visage de l'artiste occupée par la prise de la photo. La série de quinze photos conduit le spectator d'une façon dynamique et directe par la voie classique de l'intrigue, en passant par le point culminant vers un dénouement. Progressivement, les "fantômes" se dissipent, s'affinent, et a la fin, nous ne voyons que l'auteur. Il semblerait qu'il reste quelques traces des "revenants", mais ce n'est pas le cas, ce sont les reflets des capteurs de l'appareil photo, de l'instrument de fixation. Comme s'il n'y avait jamais eu de fantômes.
La science, fût-elle dans son objet liée à la psyché, est une partie souveraine de la culture. Quand l'art prétend être la concrétisation des notions formulées par les scientifiques, il ya toujours un risque de profanation brute ou de forme vide de contenu est seulement déclaré, simulé, sans y être incorporé. En lisant les descriptions des projets qui se référent aux concepts scientifiques nous craignons de venir à une exposition où nous verrons quelque chosen de mécanique, né de l'insensibilité douloureuse. Mais si le projet est réalisé clairement et simplement et l'intime fait partie aussi importante de l'œuvre, en tant que conception visuelle, cela procure un véritable plaisir.
La dernier cadre des "Fantômes" est la naissance d'une nouvelle réalité, comme une sortie vers l'au delà des limites de la situation traitée par l'auteur. Ce sont les contours du monde réel dans lequel elle réside réellement, et où elle nous emmène, nous les spectateurs, de l'intime, de ce qui était «caché».
Self-medication
Psychoanalysis and photography
One after another, exhibitions opened in St. Petersburg, the authors of which stated that they had fulfilled their projects with a definite purpose – to get rid of those or other glitches pursuing them in everyday life. Despite such acknowledgments, we can not even refer to these projects, even arbitrarily, to the category of "art therapy". Exercises performed under the supervision of a doctor who has adopted some art techniques is a fact of medicine, despite the need for creative efforts on the part of the patient. The situation when an artist, using the usual tools in art practice, tries to deal with himself – as a rule, remains a fact of art. It is interesting how differently the artists can treat their own works and the "therapeutic effect" of such a merger of the "doctor" and the "patient".
Ghosts.

Reflection
Elena Elb. "Ghosts." Freud's dream museum.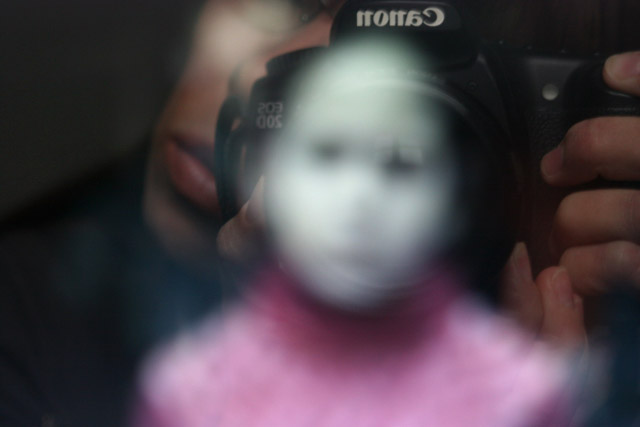 Russian Parisian Elena Elb, since 2004, has implemented eight projects in St. Petersburg, "Ghosts" – her fourth exhibition in the Museum of Dreams. Regular appearance on this site is not accidental – the Elbe works with what can be called the word used by Michael Haneke in the title of one of his films – "Cache", "hidden". "Memory", "past", "loss", "childhood", "diary", "love", "death" are words that are often found in the author's descriptions of Elena Elb's projects.
The current exhibition is devoted to grief, or rather to attempts to manage this process. If we use the popular notion introduced by Freud, Elbe captures the process of "work of sorrow". All of us, however, understand the psychoanalysis, while the other formulations of the classics bounce off their teeth, but we will not take risks, let us turn to the professionals, curators of the museum: "The study of mourning is a process in which either a loss that leads to peace, to the world around us, which gives us pain. With it, there are ghosts, returnees. " Having received these "returnees", Elbe does not drag them with him to the couch, but draws them into material for work. Obviously, at the stage when the trauma is "started", and the ghosts have already begun to live their life, preventive, initial treatment, there should be a release from these "symptoms".
Realizing its projects, Elena Elb every time invents new techniques to show the invisible to others, but perceived by her as "her own". Intimate. In "Ghosts" – no hint of using graphics programs, only simple techniques that allow you to combine two rows of images. Human faces and figures arise in reflections against the backdrop of the image of the author himself, busy at this time shooting. A series of fifteen photos dynamically and rectilinearly leads the viewer in a classical way from the outset, through the culmination, to the denouement. Gradually, "ghosts" are scattered, thinning, after all, we see only the author. From the "aliens" like there are some traces, but this is not so – red flashes – a reflection of the camera sensors, the fixation tool. A ghost – as it was not.
Science, even if its subject is connected with the psyche – a sovereign part of culture. When art takes on the implementation of the provisions formulated by scientists, there is a risk of gross profanity or empty form, where the content is only declared, imitated, but not embodied. Reading descriptions of projects based on scientific concepts, you are afraid to come to the exhibition and see something mechanistic, born of "mournful insensibility." If the project is implemented clearly and simply, and personal is the same important part of the image as the visualization of the concept, you get pleasure.
The last frame of "Ghosts" is the emerging new reality, as a way out of the situation that the author had to deal with, the outlines of the real world in which he actually resides, and where he takes us, the spectators from his intimate, who was "hidden".
FATHER Daughter II: Someone Somewhere Lost Something
The second exhibition Helen Elbe in the Freud Museum of Dreams continues to study photography as a form of memory, confession, intimate diary. The study began a year ago at the exhibition "Father's Daughter". Why is the exposition a study? Because it implies not so much exposure, as search, search for what finds us, what is in us, the search for Who Somewhere Something Lost.
Papina Daughter-2 – Second Daughter, Daughter Doubled, Daughter of Doubling. In the psychoanalytic regime, this doubling indicates the immersion in the world of symbolic, in the human world itself, in the paternal world of ideas, judgments, limitations, into a world alienated from the alluring darkness of an eternally lost being, attracting otherness, prolonging non-existence. Life takes its course in a mortal limb, in the escape of the object of desire, in the establishment of the law by language. Daddy's daughter is the Daughter of Death, Desire, the Law.
The exposition "Father's Daughter-2" includes a consistently unfolding photo story and a quote from the book "Words and Things" by Michel Foucault. This quote does not say anything about fathers, or about daughters, nor about photography, nor about a diary. She's about psychoanalysis. The choice of this quotation is not so much prescribed by the venue of the exhibition – the Freud Museum of Dreams, as by the fact that photography, diary, and memories are various attempts to grasp one's own biography, to capture it in various forms of self-knowledge. Psychoanalysis, according to Foucault, "tends to step over a view, splash through it into the finality of human existence and thus reveal instead of functions carrying norms, conflicts burdened with rules, and values ​​forming into a system, the obvious fact that the system (and hence , and value), the rule (and hence its violation), the norm (and hence the function) is generally possible. In the area where the view remains suspended somewhere at its turn, open to the closure of the finite human being, three images are depicted, through which life with its functions and its norms finds its justification in the silent repetition of Death, conflicts and rules – in naked openness of Desire, and values ​​and systems – in a language that is both a Law. " A letter, a diary, a photograph prescribe these three images, pierce the pain of resistance to these images, delineate a fascinating non-existence, inscribed in desire and law.
Papa's daughter's art is not her symptom, but a symptom of a symptom, a Hegelian withdrawal that resembles a life that imprisons death in embrace. The desire again and again sends to the beaten path the law prescribing death.
"Daddy's daughter-2" indicates a split, which consists also in the fact that she can not and can not help being a daddy's daughter. She challenges Death, Desire and Law. It is "in the area where the performance remains suspended, as it were, somewhere at its turn". At the turn of the tragedy. And although the tragedy in its ancient Greek understanding is no longer possible, yet the photographs of Helen Elbe are tragic. Tragedy – in autobiography, more precisely – in autobiotanato-photo. Tragedy is that the subject himself became the object of free fall. He – Someone, someone who has lost something somewhere. This formula "Someone Somewhere Something Lost" points to the Odyssey of finding oneself, of one's own desire. Tragedy is impossible not for someone who is looking for himself, but for that no one who has not lost nothing.
The photos of "Daddy's daughter-2" build a narrative, are built in the lost history. They form a rhythmic sequence. The captured motion of one's own body (S) alternates with the ornament of the metal fence covering the red alcove (O), with the surface of the pavement looking at the asphalt eyes (A), with the dripping green water surface (B).
Here is the syntax of this narrative, here is the cipher of the exposition: – I – O – A – I – O – I – B – O – I – I – B – I – I – A-I-A-I-B-B-. History is not only photogenic, but also cinematic. The progress of autobiotanatophotography is gaining momentum. Someone somewhere has lost something. History with spaces. History does not bind. I have to repeat it again: I – O – A – I – O – I … Where am I? Who am I? Someone somewhere has lost something … The unconscious manifests itself in this discontinuity. The unconscious is manifested … between – I – O – A – I – O – I – IN – O – I – I … History is built up between the interior and the exterior, between intimacy and ecstasy, between an injection and an exposition, between A and Z, between A and Z Oh, between I and O, between I and It, between … Meanwhile, the view gains speed, subordinates photopoethic to the rhythm of a unique repetition.
Victor MAZIN,
Founder of the Museum of Dreams of Freud Artistic critic Psychoanalyst
The text was first published in
Literary-Artistic Publicistic
illustrated magazine PERFORMANCE
http://www.lifeart.narod.ru
QUELQU'UN A PERDU QUELQUE CHOSE QUELQUE PART
La seconde exposition au Musée des Rêves de S. Freud continue la recherche des photographies comme forme de la mémoire, de la confidence, du journal intime. Cette recherche a commencé il ya un an avec l'exposition "La Fille de son Père". Pourquoi parle-t-on de la recherche en faisant référence à l'exposition? Parce que cela sous-entent non pas tellement l'exhibition mais surtout la recherche, la recherche de ce qui nous trouve, de ce qui se trouve en nous, la recherche de celui Quelque part Quelque chose.La Fille de son Père II est une seconde fille, une fille double, une fille de duplication. Dans le régime psychanalytique cette duplication montre l'immersion dans le monde du symbolique, dans le monde proprement humain, dans le monde paternel des représentations, des jugements, des restrictions, éloigné de l'obscurité séduisante de l'être perdu pour toujours, d 'un autre être séduisant, de l'entraînant non-être. La vie prend son élan dans la direction mortelle de sa finitude, dans l'évasion à l'objet du désir, dans l'instauration de la loi par la langue. La fille de son Père est la Fille de la Morte, de la Loi.L'exposition "La Fille de son Père II" est composée de l'évolution successive de l'histoire photographique et de la citation d'un ouvrage de Michel Foucault Les Mots et les Choses. Dans cette citation il n'y a aucune mention des pères, des filles, des photographies ou des journaux intimes. Elle concerne la psychanalyse. Le choix de cette citation n'est pas tellement déterminé par le lieu du déroulement de l'exposition – le Musée des Rêves de S. Freud – mais par le fait que la photographie, le journal intime, la mémoire sont des tentatives de saisir la biographie propre, de la reproduire sous différentes formes d'auto compréhension.Selon la pensée de Foucault la psychanalyse «avance pour enjamber la représentation, la déborder du côté de la finitude et faire ainsi surgir, là où on attendait les fonctions porteuses de leurs normes , les conflits chargés de règles, et les significations formant système, le fait nu qu'il puisse y avoir système (donc signification), règle (donc opposition), norme (donc fonction). Et en cette région où la représentation reste en suspens, au bord d'elle-même, ouverte en quelque sorte sur la fermeture de la finitude, se dessinent les trois figures par lesquelles la vie, avec ses fonctions et ses normes vient se fonder dans la répétition muette de la Morte, les conflits et les règles, dans l'ouverture dénude du Désir, les significations et les systèmes dans un langage qui est en même temps la Loi.
Une lettre, un journal intime, une photographie font ressortir ces trois figures, pénètrent de douleurs leurs résistances, tracent les contours du séduisant non-être inscrit dans le désir et la loi.
L'art de la fille de son père n'est pas son symptôme mais le symptôme d'un symptôme, cette levée hégélienne qui rappelle la vie s'emparant de la mortes dans l'embrassement de la répétition. Le désir encore et encore dirige verse chemin tracé par la loi ordonnant la mort.
"La Fille de son Père II" montre une duplication qui consiste encore en cela qu'elle ne peut plus et ne peut ne pas être la fille de son père. Elle conteste la Mort, le Désir, la Loi. Elle est "en cette région où la représentation reste en suspens, au bord d'elle-même". Au bord d'une tragédie. Et bien que la tragédie dans la signification de la Grèce Antique soit désormais impossible, les photographies de Elena Elbe sont tout de même tragiques. La tragédie est dans l'autobiographie ou plutôt dans l'autobiothanatophotographie. La tragédie est en cela que le sujet est devenu lui-même un objet de la chute libre. C'est Quelqu'un, celui qui a perdu quelque part quelque chose. Cette formule "quelqu'un a perdu quelque part quelque chose" désigne l'Odyssée de la recherche de soi-même, du désir propre. La tragédie n'est pas pour celui qui cherche mais pour ce Quelqu'un qui n'a Rien perdu.
Les photographies de "La Fille de son Père II" s'alignent dans une narration, dans une histoire perdue. Elles forment une succession rythmique. Les prises des mouvements de son propre corps (Z) s'alternent avec des neuments couvrant une alcôve rouge d'une grille métallique (A), avec les yeux de l'asphalte (Y), avec la verdure emportée du miroir des eaux V).
Voici la syntaxe de cette narration, le code de l'exposition ZAYV-ZAYV-ZAYV-. L'histoire n'est pas seulement photogénique mais cinématographique. Le cours de l'autobiothanatographie prend de la vitesse. Quelqu'un a perdu quelque part quelque chose. L'histoire avec des blancs. L'histoire sans liens. Il faut donc la répéter: ZAYV-ZAYVZ … Où suis-je? Qui suis-je? Quelqu'un a perdu quelque part quelque chose … L'inconscient se dévoile dans cette non-continuation. L'inconscient se dévoile … entre, ZAYV-ZAYVZZ … L'histoire s'aligne entre l'intérieur et l'extérieur, entre l'intimité et l'extimité, entre l'imposition et l'exposition entre Z et A, entre A et Y, entre Z et Y, entre Moi et ça, entre … Entre deux le regard prend de la vitesse, soumet la photo poésie au rythme de la répétition unique.
Victor MAZIN
Fondateur du Musée des Rêves de S. Freud Psychanalyste Critique d'art
L'article initialement publié dans le magazine littéraire et artistique PERFORMANCE
http://www.lifeart.narod.ru/
LETTER FROM VICTOR MAZIN
Looking at the pictures of Helen Elbe, an unexpected and even paradoxical thought comes to mind: photographs as such, there is no photo as a pure image. This thesis is quite obvious. In her work, Helen Elbe emphasizes the word "photography" on the second part: photography is, first of all, writing, writing to the light, lighting on the skylight.
The written nature of the picture of Helene Elbe is evident in the syntactic ordering of the imaginary, in the symbolic structure of the image. In this respect, we are talking about the approach of a strange literary effect: we do not so much look at the photograph as we read it. Moreover, another paradox is that the reading is systematically paralytic in nature. The narrative unfolds in spite of the missing letters and in spite of the missing story in the pictures. Unless the appearance on the photo of the pages of an open book hints at the out-of-frame structuring of images by a narrative.
It's all about the linear movement of the eyes – from left to right. The thing is in the syntax – the picture behind the photo. It's all serial, there is simply no single photo, it's always already built into the sequence. Each of the three series contains four photos. This sequence of the series is a paraliterature code. It is in the spirit of the Morse code. Unless the code is a priori untranslatable in words, in a kind of transparent message. Unless the time duration of discrete signals is replaced by the spatial duration of the syntagmatic episodes of each series.
Another vector of eye movement – deep into the lumen, into the transparent palimpsest, into the multilayered texture of the paradigmatic axis. This is another, quite ghostly basis for the strange paralytic effect of the photo of Helen Elbe. This deepening motion recalls memory. Memory, at least computer, is another evidence of this photo. Along with the unobvious, but from this by no less tangible autobiotanatographic memory, melancholically translucent graphic surface.
Recollection flares up at the intersection of two reading vectors, ripping sequences. Neither left, nor right. Neither in depth nor on the surface. Neither inside nor outside. But in the displacement and condensation the unique repetition of the episodes – an open book, computer boards, sculptural Apollo, own body …
The apparent stopping of eye movement is impossible not only due to the consistent dynamics of the syntax of the series, and not only because of the internal circulation of the elements of the palimpsest. The stop is impossible in view of the invisible gap between the heterogeneous materials. These gaps are beyond the imaginary side. They are inability to translate body and text, computer memory and the subject's memory. They are untranslatable, but they show themselves in anamorphic reflection, repetition, doubling of one in the other. One reveals itself in the other and awakens the memory that the elusive subject does not fade in the gaps.
Victor Mazin
* Founder of the Museum of Dreams of Freud Artistic critic Psychoanalyst
GAZETTE DES ARTS
Pour Elena Elbe la lumière devient pinceau, les reflets changent de couleur et vont habiller un rythme et des sensations qui se matérialisent sur la pellicule. C'est là un principe général que l'artiste photographe va développer et introduire dans sa sensibilité, pour que celle-ci exprime un langage musical qui se renouvelle pour chaque expérience.
Ainsi l'arbre est détaché de la forete, dénude de ses feuilles afin que ses branches nues viennent ciseler le ciel en une mosaïque de surfaces, chacune d'entre elles ayant sa propre expression et son propre univers rythmique.
Ce n'est plus l'arbre par lui-même qui compte mais le jeu d'ombre et de lumière dans lequel il intègre un éventail d'éclairages. La puissance du tronc fait éclater une infinité d'illuminations, comme la foudre fait rayonner ici les branches d'or d'argent qu'elle enfante.
Cette conception de la photographie nous allons la retrouver dans des abstractions pures par lesquelles les formes imaginaires vont entrelacer les couleurs qu'elles abritent derrière des frontières rigides, mouvantes et transparentes.
Le mouvement est donné par l'interpénétration fluide des teintes entre elles.
Nous avons là un principe qui va se transposer dans la danse d'une jeune femme nue dont les différentes expressions du corps deviennent une échelle de gamme musicale. Chacune d'entre elles ayant sa sonorité et son harmonie qui en se combinant fournissent le terme de la finalité des clichés.
Elena Elbe se sert de ce principe et de pauses variées qui ont leur propre valeur d'être dans un mouvement de continuité, nous présentant l'ensemble d'une harmonie que le regard peut décomposer en suivant une progression linéaire.
Ici l'artiste joue à la fois sur la beauté et l'érotisme de la forme d'un joli corps en lui donnant une progression cinétique, dans le but de transformer ce qui ne serait que des moments dans l'espace du temps, en une mélodie qui dépassera l'érotisme pour atteindre une sublimation en une exaltation des gestes, des mouvements dont la partition sera un moment musical.
Ainsi, l'émotion naîtra, créée et issue des divers sentiments qui émergent du plus profond du subconscient humain, pour aboutir en une danse dédiée aux dieux.
A l'opposé le mouvement peut sembler se figer mais une attentif va faire découvrir les richesses d'un cliché qui semble ciblé sur une simple feuille morte.
Si celle-ci apparaît comme étant le sujet principal, la réalité nous montre l'importance de l'accompagnement qui, grain par grain, lumière par lumière, éclat par éclat offre une saveur particulière au cliché.
La feuille morte reste le sujet principal certes, mais elle ne serait rien si elle n'était pas déposée sur un revêtement de perles blanches, noires aux miroitements dorés, c'est-à-dire l'éventail d'un arc-en- ciel dont la fréquence des coloris a été dominée, maîtrisée, pour en faire une surface immatérielle qui convient à notre propre réceptivité.
Mais si l'artiste jongle habilement avec les nuances colorées elle n'en domine pas moins les demi-teintes dont elle développera un vaste thème qui joue à l'intérieur d'un panel de gris, de bleus et de blancs.
On the peut dire d'elbe que quoiqu'elle traite depuis la tranche d'un livre jusqu'aux infinis d'un paysage, elle s'unit aux échos les plus subtils, dans le but de nous faire découvrir ce que l'œil voit, mais que l'esprit n'interprète pas.
L'intérêt de cette jeune artiste est de jeter un autre regard sur ce qui nous entoure et de s'en nourrir, nous faisant jouir des fruits de son imagination constructive.
Agnès Lecompte Critique d'art
et
Christian Germak
Editeur du magazine Gazette des Arts
Critique d'art
LETTER FROM VICTOR MAZIN
Hello, Lena!
Imagine when I finally wrote a text about your photo exhibition in the Nabokov Museum, devoted to love correspondence by e-mail, computer memory proved to be very inappropriate. And, maybe, and very opportunely. I never know that. It happened – what happened: the work of electronic storage media included a shameless unconscious. In short, I transferred the text from my computer to the computer using the removable drive's removable memory until the text disappeared. When I opened yesterday the file "Helen Elbe", I saw on the screen only two flickering words – "Letters of Sirin". I rushed to another computer, then to the third. In the memory of all three machines, as well as in the memory of the computer drive, only a reminder is preserved – "Letters of Sirin". Four files were dated December 23, 2006, the day I sent myself a message to the future: write a text about the exhibition "Letters of Sirin". Where are the letters ?! – I begged. Where is my text? Why did I retard it retrospectively? Can I name the one who destroyed my text "I"?
This text had nothing to do with the Letters of Sirin. This inscription was just waiting for its destruction, in the future it had to be replaced with the name. In your photos I have not seen Sirin, nor the one to whom this terrible bird sings. My thoughts began with Nabokov, in whose house I saw the exhibition, with the banal idea that photography is also a letter, a light letter.
Lighting reminds: photography is a form of memory. I write to you from memory, trying to retell the contents of a letter lost in computer networks, to which my "unconscious record" was connected. The photo always contains an indication of what has already happened. Photography is a nostalgic means of recording par excellence. Like the letter with its persistent dimensions of love and death. Is that why you chose the photo? Photography is one more, but another autobiographical recording tool. She speaks with images of time, objects, the photographer, his optical choice. She talks about a combination of seemingly dissimilar surfaces in the picture together, like you, more precisely, together, but separately, with an emphasis on the gap of the meeting, on always already other shores, on what happens between the word and the image, the hearing and the vision , smell and touch. This gap with other shores and represents a love correspondence. The photo brings a barely perceptible smell, speaks in a barely audible voice, touches with a light touch. Reflections of ephemeral memories froze in puddles, protecting from the overturned sky. Left the diary page. The handwriting that does not have an ink letter does not leave a trace.
That's what my text was about.
Victor
* Founder of the Museum of Dreams of Freud Artistic critic Psychoanalyst
RETURN TO AUTHENTIC REALITY
Wrapping around the corner, he suddenly found himself in the backyard.
F.M. Dostoevsky
Through these narrow and such distant openings the light streamed.
Samuel Beckett
Dialogue of two artists with "extended, aggravated, peripheral" vision, describing "life on the roadside", creates a special drama of the project "Moscow – Paris. Backyard". In their visual constructions, Bagrat and Helen Elbe discover not only a new artistic existence, but also the mythology of the two polarized spaces of Moscow and Paris, revealing local zones of human existence – the backyard. Artists view the backyard as an archetype, as the "folds" of Gilles Deleuze, where the entire current culture is constantly returning – from François Villon to Franz Kafka, Alfred Camus and Joyce. Spaces of "backstops" take us away from the Champs-Elysees and from the prospects of Tverskaya Street – the main "arteries" of Paris and Moscow, immersing ourselves in the authenticity of the presence in reality. They open in their primordiality, when the coordinates of time and space are only outlined, and only art is able to reveal their dimensionality and metaphysical certainty. The image of the "backwoods" is directed to the topography of the labyrinth of antiquity – to the search for "adjacent" spaces in the protophilosophy of Homer and Plutarch, in the interlacing of the street-riddles, in the prose of HLBorges and in walks through the night Petersburg of F.M. Dostoyevsky. She meets her "critical masses" Helen Elbe and dissolves in the shimmering bodies of Bagrat, confirming the correctness of the "golden proportions" in the most unimaginable circumstances in the Chinese "Book of Changes".
The backyards of Bagrat are transformed in the symbols of alchemy, as a primordial life, living independently of man, but demanding from him a permanent return to him. They swish by oceanic worlds, filled with light and breathing. Their life ends between a wave and a corpuscle where gravity is lost and energy is gained. The artist refuses "names", from flat forms and matrices, overcoming the "surfaces" of the backyard, their profane graffiti and traces of past human presence. The tops of Bagrat's "backyards" open in themselves the coordinates of time, its duration in the void, when it is pushed by a ball lightning, emptying into an inescapable one. Artistic gestures of the artist are gradually transformed into radiographs, shining through their power vectors and slipping into "waiting for oblivion" of Maurice Blanchot. Minimized, they, nevertheless, do not forget about their redundancy, continuing to breathe and pulsate with the invisibility of their body, its hidden lungs and blood vessels. But it is here that they discover their potential hiding places, where they can hide, find themselves in the backyards of our childhood, in magical silence and oblivion.
Spaces of "backwoods" Helen Elbe – in contrast to Bagrat's flickering states – carry certain urban realities in them, coloring themselves with aesthetic meanings. Their volumes and prospects are decorated with painting as ready-made, drawing closer to the spaces of performance. They are able to "bend", changing their imagery, becoming human, turning into an exposition interior, collecting passers-by, addressed to the audience or, more precisely, to the participants in the artistic action. Repeating, incorporating canonical forms, the action of demonstration of art canvases in the informal and non-functional "backyard" of Paris acquires the status of ritual, mysteries, and Laurent's works in this coordinate system move toward the sacral object. Possible abuses and blasphemies, in the reality of which they may turn out, and subsequent traumas from social forces or natural influences turn their images into a "shroud" or "Lamentations of Veronica", fixing their new, magical dimensions.
The photo installations of Bagrat and Helen Elbe, crossing the border between Moscow and Paris, occur at the points of their ultimate states – between empirical reality and energetically saturated and absolutely estheated zones of the artistic gesture. They constantly "freeze", as in the classical children's game, in order to go into the great "nothing" before the final "resurrection" in their next phase.
Vitaly Patsyukov, Art critic
RETURN TO TRUE REQLITY
RETURN TO TRUE RALITY
Rounding the corner, he suddenly found himself in a backyard.
FM Dostoevsky
A light was streaming through the narrow yet quite distant openings.
Samuel Becket
It is the dialog of two artists, possessed of "extended, heightened, peripheral" vision and depicting "life by the roadside", that has been formed by the special dramatic composition of the project. Backyards ". In their visual constructions, Bagrat and Helene, Elbe, not only opened up the new world, but also the mythology of the two popularized spaces in Moscow and Paris, revealing local zones of human life-backyards. The artists view backyards as an archetype, like Giles Deleuze's "The Fold", which all present-day culture is constantly returning to – from Francois Villon to Franz Kafka, Albert Camus and Joyce. The spaces of the "backyards" lead us away from the Champs Elyses and the perspectives of Tverskaya Street – the basic "arteries" of Paris and Moscow, submerging us in true presence in reality. They are exposed in their primeval essence, when the coordinates of time and space are only just beginning to take shape, and only art is capable of uncovering their regularity and metaphysical distinctness. The vividness of the "Backyards" is in the foreground of the anticardium in the search for the "next" spaces in Homer and Plutarch's protophilosophy, in the intertwining of the enigmatic little streets in the proj of JL Borjes and FM Dostoevsky's walks through nighttime Saint Petersburg. It coalesces in Helene Elbe's "Critical Masses" and dissolves in Bagrat's glimmering bodies, confirming the validity of the "golden proportions" in the most inconceivable circumstances in the Chinese "Book of Changes".
Bagrat's backyards are transformed into the symbols of alchemy, like a primal substance which lives independently of man. They stir with the oceanic worlds, fill with light and breath. Their life ends between the wave and the corpuscle, were gravitation is lost and energy is regained. The artist rejects "names", flat forms and matrices, surmounting the "surfaces" of backyards, their profane graffiti and the traces of man's past presences. The statements of Bagrat's "backyards" reveal in itself the coordinates of time, its duration in a void, as imminent as ball lightening, devastated in the inescapable. The painter's gestures are transformed into Maurice Blanchot's "Awaiting Oblivion". Reduced to the minimum, all the same, they do not forget their superfluity, continuing to breathe and pulsate by the invisibility of their body, through its hidden lungs and blood vessels. But it is precisely here that they discover their potential haven, where they can hide, turn out in the backyards of our childhood, in magical quiet and oblivion.
The spaces of Helene Elbe's "backyards" reside in their contrast to Bagrat's shimmering states-they bear within themselves well-defined city realities, colored with esthetic meanings. Their scopes and perspectives are adorned by art like ready-made, approaching spaces of performance. They are able to "distort themselves", changing their vividness, becoming human, transforming themselves into an exposition interior, gathering passers-by, metamorphosing them into an audience, or more precisely. Replicating itself, assuming canonical forms, the act of showing arts canvases in the non-formalized and non-functional "backyards" of Paris acquisitions of the status of a ritual, a mystery, and Laurent's works in the system of coordinates a sacral object. The possible outrages and blasphemies, the reality of which they may find themselves, and the subsequent traumas from the social forces or natural influences, transform their images into a "Shroud" or "Veronica's Wimple", making their new, magical dimensions steadfast.
Bagrat and Helene Elbe's photographic installations, traversing the bounds of the passage between Moscow and Paris, converge at the points of their extreme states-between empirical reality and the energetically saturated and totally esthetized zones of the anatomical gesture. They are constantly "freeze", as if in a classical children's game; then, in the following phase, they merge with the great "nothingness" only to be finally "resurrected".
Vitaly PATSUKOV,
Art Critic